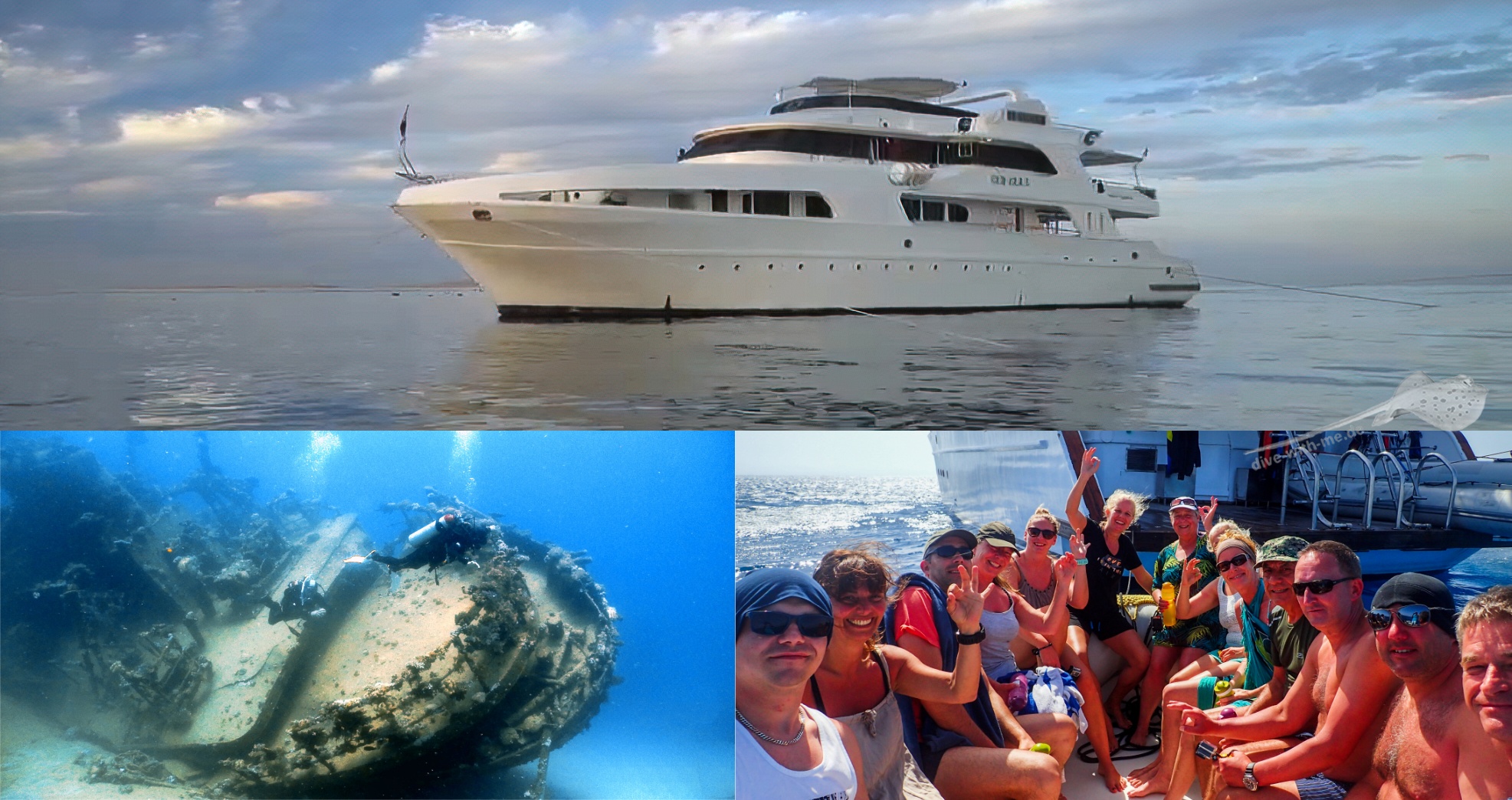 14. -  21. November 2021  

Liveaboard Red Sea, Egypt

 
North & Brother Islands (incl. wrecks Thistlegorm and Ghiannis D.)
We will spend 7 nights on the liveaboard "Red Sea 1" exploring the wrecks and reefs in the north of the Red Sea as well as the famous Brother Islands. As we will occupy the ship with a maximum of 16 divers (ship capacity 26 guests), there is plenty of space for our group in the spacious salon, on the three sun decks and especially on the dive deck.
I myself (Instructor NAUI / NASDS / CMAS) and two experienced Egyptian instructors will accompany you during the trip.
If you like, you can extend the trip with some extra days and a few dives in Marsa Alam and dive with us at Elphinstone reef and the reefs of Abu Dabbab.
Itinerary
Day 1: (arrival day) arrival in Egypt, transfer to the ship (port of Hurghada), dinner & night on board
2 . Day: Departure, 2- 3 dives
3rd - 6th day: diving at the wrecks of Abu Nuhas, the Thistlegorm, Ras Mohamed and the Brother Islands, 2 - 4 dives daily
7th day: 2 dives, entering the harbor
Day 8: (departure day) breakfast, check-out and transfer to Hurghada airport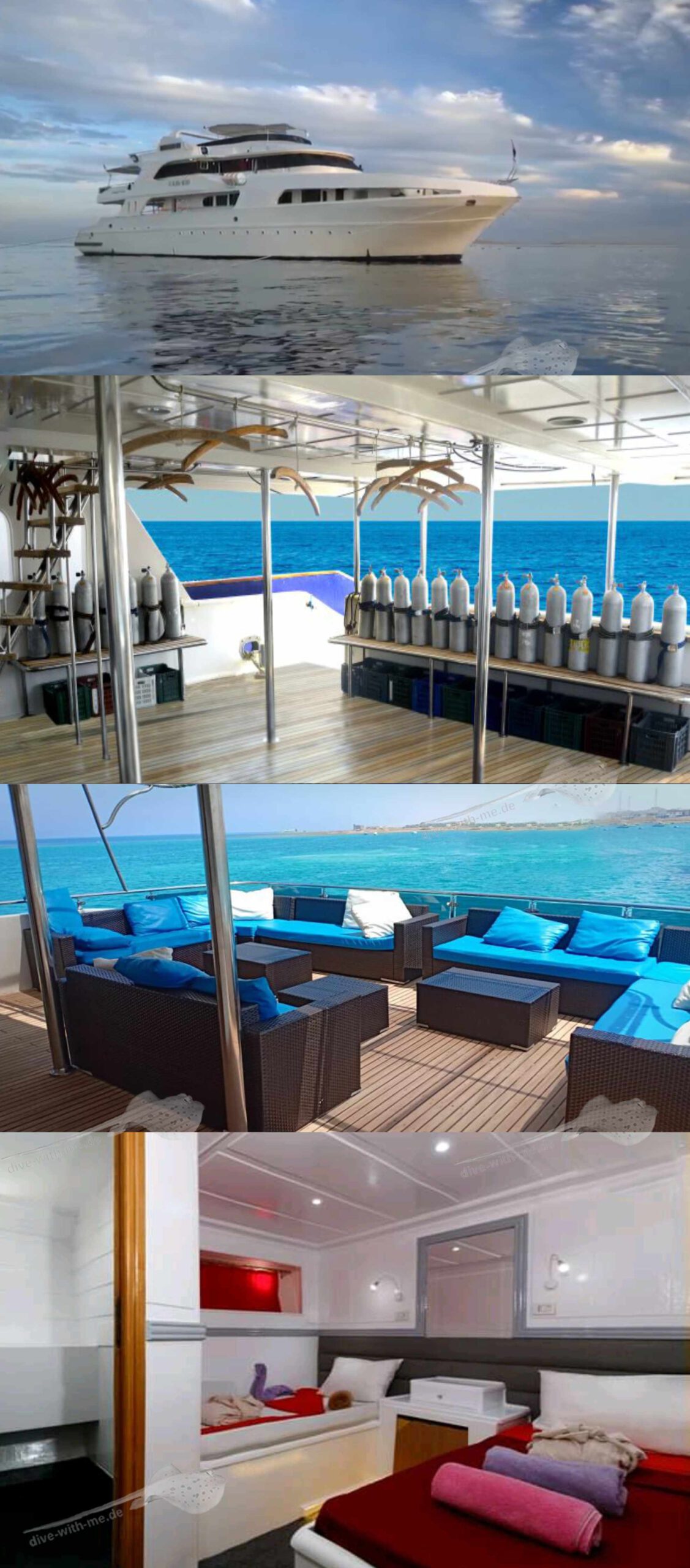 Our liveaboard for the trip in 2021 is the M/Y Red Sea 1.
The M/Y Red Sea 1 is a spacious motor yacht designed and built specifically as a dive boat. She has a new owner since the beginning of 2021 and has been renovated in dry dock and equipped to the latest standards in March 2021.

Due to her design, the M/Y Red Sea 1 with her length of 36 m and beam of 8 m offers a lot of comfort for our group. Theoretically she offers space for 28 passengers in 14 cabins. However, since we will not be using the ship to its full capacity (we plan to take a maximum of 16 passengers), we have plenty of space on board.
Salon / Dining room
The restaurant and the salon are tastefully and comfortably furnished. There is a dining area and a lounge area with bar, TV / CD / DVD and sound system. The flat screen is also used for our briefings.
Sun decks
The M/Y Red Sea 1 offers three sundecks. The large sundeck on the Upper Deck with comfortable sofas, beanbags and a bar, the Highdeck with a large seating area (ideal for watching the fantastic starry sky) and a small sundeck at the bow of the ship. So for our group, there is more than enough room to sunbathe and relax between dives.
Cabins
The ship has 14 cabins (12 guest cabins and 2 cabins for the guides) spread over the different decks. On the lower deck there are the standard cabins with two single beds each, on the main deck there are two Seaview cabins with two single beds each and on the upper deck there are two Seaview cabins with double bed and two beautiful Seaview suites with double bed and large window to the front. All cabins have a private bathroom with shower / toilet, air conditioning and a refrigerator. The cabins / bathrooms are cleaned daily by the crew. Bed linen and shower towels are provided for guests in each cabin.
Dive deck
The spacious dive deck also offers plenty of room. Here we can dress in peace and prepare for the dives. We will start our dives either directly from the ship or from one of the two zodiacs. On the dive platform there are additional showers and also a small sink to rinse your equipment after the dives.
The photos of the M/Y Red Sea 1 used on this website were taken in March 2021.

Our ship
Length/Width: 36m / 8m
Cabins: 14 (12 of them as guest cabins) 8x Standard / twin bed, 2x Seaview / twin bed, 2x Seaview / double bed, 2x Seaview Suites / double bed
Zodiacs: 2;  Compressors: 2x Bauer + Nitrox
Safety equipment: 2 life rafts, 2 inflatable boats, life jackets, electronic fire alarm, smoke detectors in cabins, emergency oxygen, first aid kit
Diving tanks: 12l aluminum, DIN connection (15l tanks or stage tanks can be reserved for an extra charge)
Package price 1.280,-€



The price includes:
7 nights on the ship in 1/2 standard cabin (2 single beds) with shower/WC and air conditioning

full board on board in buffet form incl. non-alcoholic beverages

bed linen, shower towels, bathrobes, daily cleaning of the cabins

6 diving days in total with 2 - 4 dives daily (no night dives are allowed on the Brothers)

Nitrox for divers with Nitrox certification

Dive permit fees and Marine Park fees

Harbour fees

Guiding by German / Egyptian diving instructor team during the whole trip

personal pick up at the airport in Hurghada

transfer as collective transfer (airport Hurghada/ship and back)

We speak German, English, Spanish
Not included in the price:
Not included in the price

Flights

visa currently 25,-€

alcoholic drinks

transfer costs if private transfer is requested (instead of offered group transfer)

tips for the crew
Alternatively to the 1/2 standard cabin the following cabin types are available: 
1/2 cabin Seaview (2 single beds) 1.370,- €

Cabin Seaview (double bed) p.p. 1.420,- €

Suite Seaview Panorama (double bed) p.p. 1.500,- €
Some cabins are available for single use, surcharge 220, - €
There are NO hidden surcharges, which then have to be paid additionally on site!
Should the tour have to be cancelled due to travel restrictions, the price will be refunded in full (NO voucher redemption, NO rebooking etc.)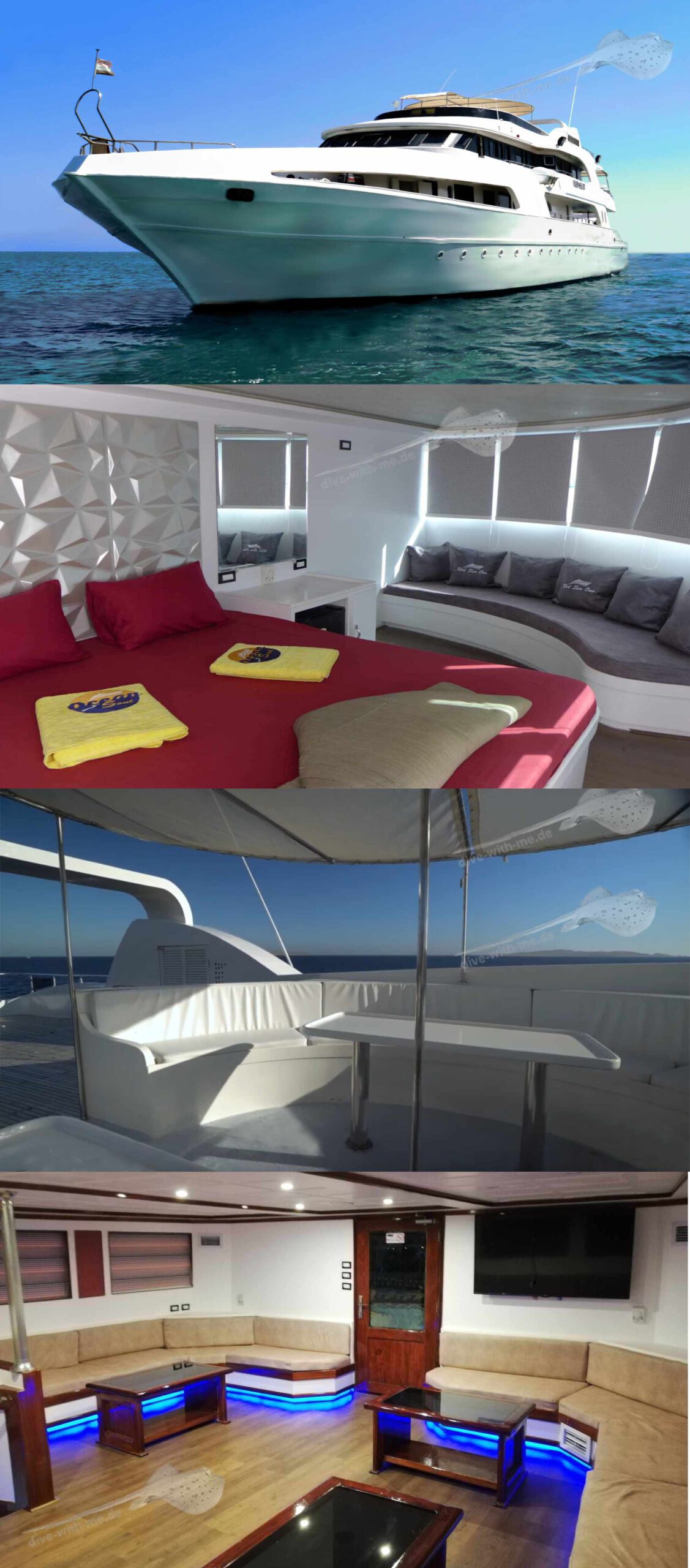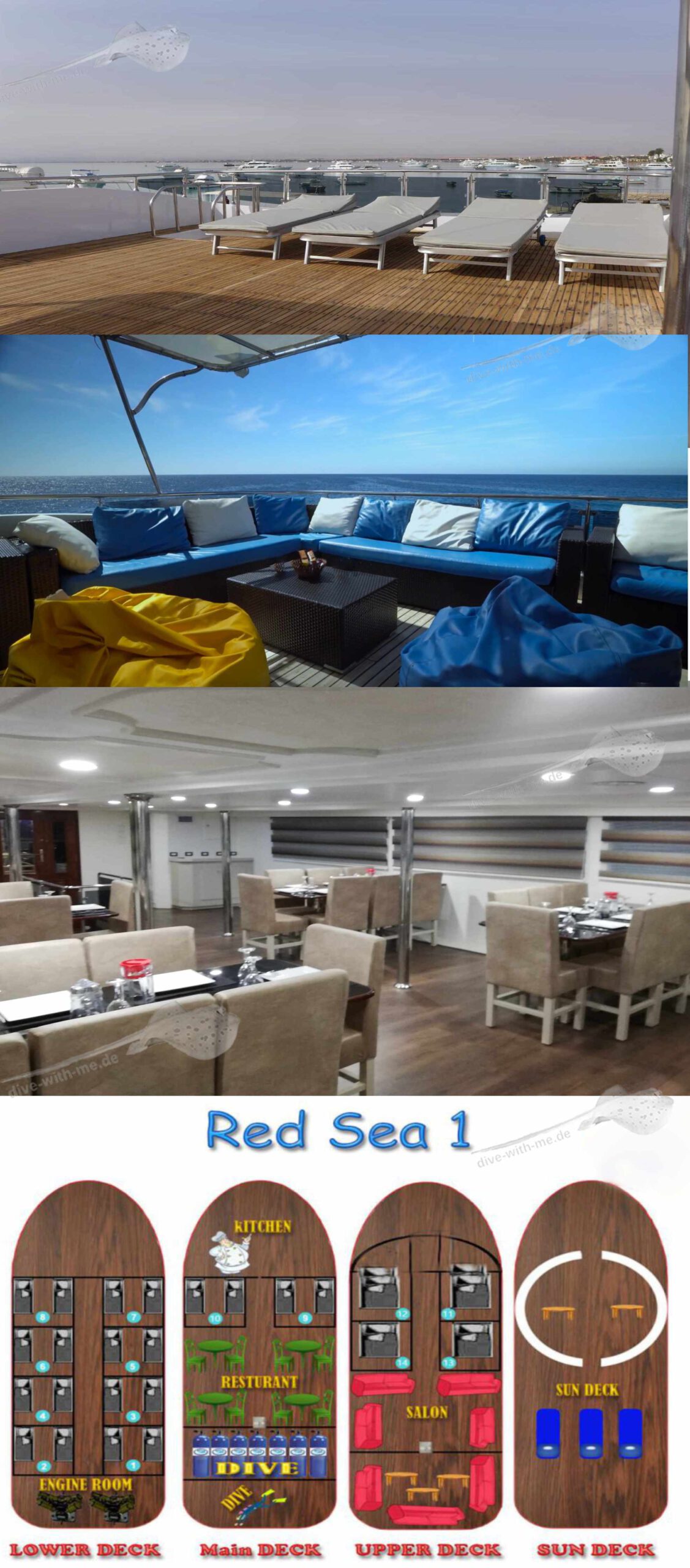 Shipping route
North & Brother Islands



On this tour, which starts in Hurghada, we have the opportunity to dive on the spectacular wrecks around Abu Nuhas and the colorful reefs of Ras Mohamed: Both the Ghiannis D., the Carnatic and the Thistlegorm will be visited. Afterwards we continue to the Brother Islands. These are known for their beautifully steep walls and great abundance of hard and soft coral. Also big fish and different shark species can usually be found at the Brother Islands all year round.
Depending on the weather and current conditions we will choose the best dive sites for you on the planned route.
Our team on board consists of myself (German diving instructor NAUI, CMAS and NASDS) and two experienced Egyptian diving instructors. We are at your disposal with words & deeds, give you detailed briefings to each dive site and accompany you on your dives - we speak German, English and Spanish.
Due to the number of guides and the planned maximum occupancy, the dive groups remain small and individual even under water.
We can also offer different courses during the trip, e.g. Enriched Air Nitrox.
Required equipment can be rented for a fee after prior arrangement.