Red Sea Divingtour 14.11. - 23.11.2019
2
days Diving in Marsa Alam + 7 days Divingsafari St. Johns
We will spend 2 days at the Beach Safari Resort in Marsa Alam and then 7 days on the liveaboard M/Y Bohemia. The liveaboard is a luxurious motor yacht designed and built specifically as a diving boat. In 2018 we already undertook a safari with the MY Bohemia and were thrilled by the ship.
Since we will not occupy the M/Y Bohemia up to its full capacity, we will have plenty of room in the spacious salon, on the 3 sundecks and especially on the dive deck.
Therefore there is a possibility to reserve some double cabins for single use.
I myself (Instructor NAUI / NASDS / CMAS) and two experienced Egyptian diveguides (PADI / NASDS) will accompany you throughout the journey. We speak German, English, Spanish and Arabic.
Itinerary
Day 1:     (arrival day) Arrival, transfer to our hotel in Marsa Alam, dinner at the hotel
Day 2:     2 - 3 beach dives, in order to "warm up" and with a possibility to mmet some turtles
Day 3:     1 - 2 boat dives with our speed boat, in the afternoon transfer to our ship
Day 4-8:   Dive safari on the M/Y Bohemia, daily 2-4 dives possible
Day 9:     1 - 2 dives, back to the harbor, traditional dinner in the desert at a Bedouin camp
Day 10:    (day of departure) Transfer to the airport
The liveaboard

The M / Y Bohemia is a luxury motor yacht specially designed and built as a liveaboard. It gets renovated every year in spring, before the season starts, and therefore is equipped to the latest standards. For 2019, the air conditioners have been renewed and the upper sundeck re-furnished.
With its length of 30 m and a width of 8 m the M/Y Bohemia offers a lot of comfort for our group. It can theoretically accommodate 22 passengers in 11 spacious double cabins. Since we will not fully fill up the ship (we are planning for a maximum of 15 guests), we have ample space available on board.
All cabins have their own bathroom, wardrobe, fridge / minibar and air conditioning. One of the cabins is a suite with a king-size bed. The crew of the ship takes care of blankets, bed linen, towels and the cleanliness of the cabins during our trip.
Salon / dining room
The restaurant and the salon are tastefully and comfortably furnished. There is a dining area and lounge area with bar, TV / CD / DVD and sound system.
Sundecks
The M / Y Bohemia offers three sundecks, one of which has a bar. These provide enough space for sunbathing and relaxation between dives.
Dive-deck
The spacious dive deck made of teak wood also offers plenty of space. Here we can calmly assemble our equipment and prepare for the dive. We will either start directly from the ship or from one of the two zodiacs to our dives.
Total price 1.350,-€

Included in the price is everything you need:
2 nights in the newly opened Beach Safari Resort in Marsa Alam (½ DZ)

Full board in Marsa Alam including tea / coffee / water

7 nights on the M/Y Bohemia (½ double cabin with shower / WC and air conditioning)

Full board on the ship in buffet form incl. non-alcoholic drinks

Sheets, towels, bathrobe, daily cleaning of the cabins

8 diving days in total (1 day from the beach + 1 day with our speedboat + 6 days during the safari) with 2 - 4 dives daily

Nitrox for free on the M/ Bohemia for divers with Nitrox-Certification

Excursion to a desert camp and Bedouin dinner on the last evening

Supervised by German / Egyptian Instructor and Divemaster Team throughout the trip (not just for the diving), speaking German, English and Spanish

personal pick up at the airport

all transfers (from / to Marsa Alam airport - to the hotel - to the dive sites - to the ship)

all local permit fees
Not included in the price is only:

your flight


Visa-fee currently 25,-€

alkoholic drinks


supplement for transfer from/to Hurghada airport (we will organize this for you)



If available, a double cabin for single use can be reserved for a surcharge of 180, - €
There are NO hidden surcharges in this offer, what you see is what you get!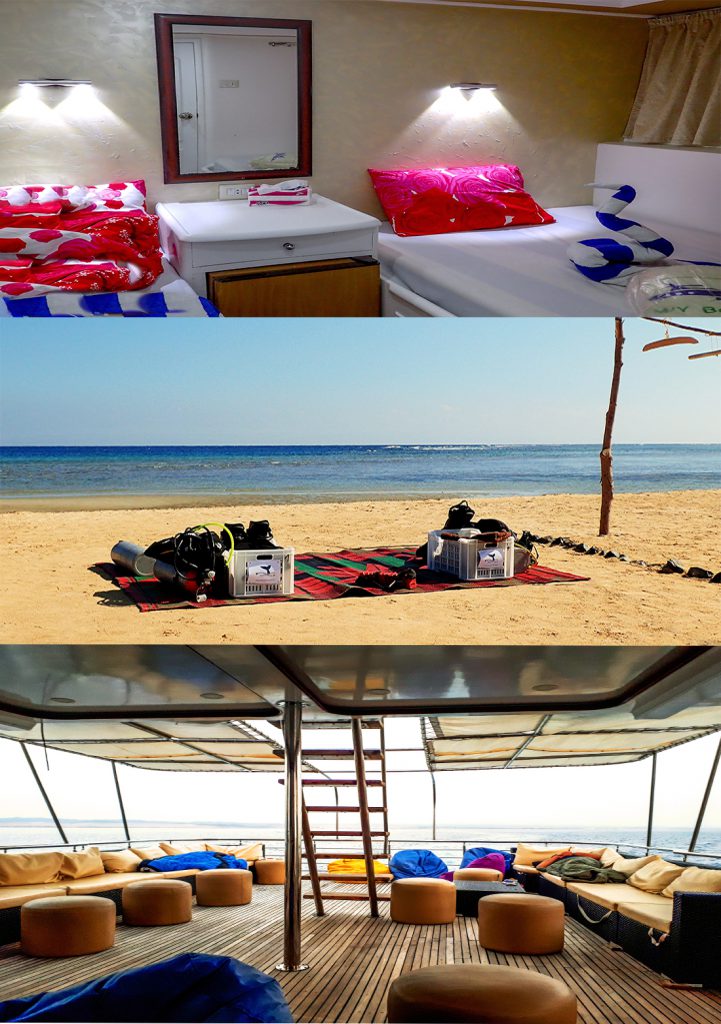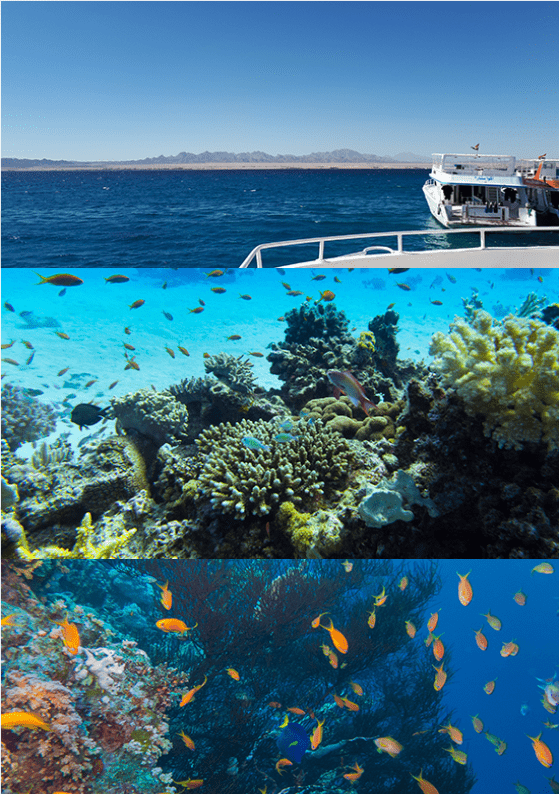 Route: Marsa Alam - Fury Shoals - St. Johns - Elphinstone - Marsa Alam

This southern route can be described as the most beautiful route along the Egyptian coast, and we will explore a huge selection of colourful and very varied dive sites along the way.
The reef system of St. Johns is famous for its caves, a large selection of small reefs or even spectacular drop offs with beautiful vegetation. St. Johns is probably one of the most intact reef systems in the Red Sea.
We will also explore the reefs of Fury Shoals with its diverse dive sites during the safari. Our route could include Fury Shoals Garden, Sha'ab Claude, Sha'ab Maksour, Gota Soraya, Sataya / Dolphin Reef and El Malahi.
On the way back to Marsa Alam we plan to dive at the famous Elphinstone Reef.
Depending on the weather and current conditions, we will choose the best dive sites on the planned route for you during the voyage.
Our team of myself (German instructor NAUI and NASDS) and our experienced Egyptian PADI divemasters are at your disposal at all times, giving you a detailed briefing for each dive site and accompanying you during your dives.
You are also welcome book a course during the trip, for example Enriched-Air-Nitrox.
Required equipment can be rented by prior arrangement.